News
If you're an owner of a helicopter or flying aircraft, the constant maintenance and inspection of its equipment can be an expensive venture. Although helicopters have been primarily used by the military and medical sectors in the past, they have increasingly been used for other recreational purposes as well. Whatever you've been using your helicopter for, you need effective parts to ensure it operates normally and safely. That's where used helicopter parts can greatly benefit your flying aircraft.
At Rotorlink, we're a reputable aftermarket and supplier of Used Helicopter Parts in the USA and Bell Helicopter Parts in the USA. Helicopters go through a lot of wear and tear on a daily basis and you may often require replacement parts and accessories to keep it functional. Our team works with an extensive network of expert vetted parts suppliers and distributors in the industry. Contact us today if you're a helicopter owner or pilot in need of a diverse set of cost-effective used parts
Rotorlink is your best bet for finding the right used helicopter for your specific needs. While some may be unsure of the effectiveness of used helicopter parts, we have some compelling reasons for you to consider installing them for your aircraft.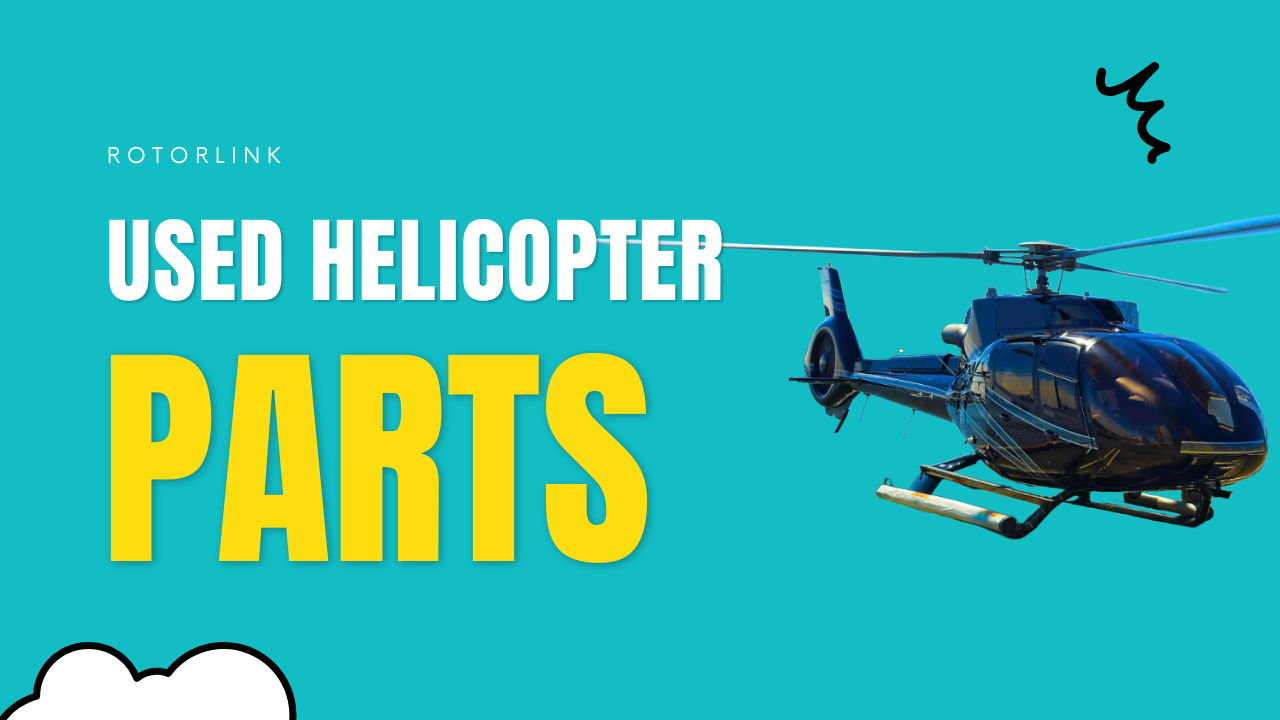 What Should I Look For When Buying A Helicopter?
The first step to take care of first is the type of helicopter you're interested in purchasing. There are many types of helicopters available on the market, but your decision should depend on whether or not the pilots are flying the helicopters. For private helicopters, the pilots often prefer to fly the less bulky aircraft themselves.
Bigger helicopters are often used by professional pilots to fly around passengers in the back for recreational purposes. Meanwhile, midrange or smaller helicopters are best used for administrative tasks. Whichever size you go with, you'll be assured that there will be parts to help maintain your helicopter throughout its lifespan.
Looking for helicopter parts or spares? we carry a wide range of helicopter parts and spares in stock and ready to be shipped on request including Colibri helicopter Esquilo parts Esquilo spares Ecureuil helicopter spares Ecureuil helicopter parts EC120 parts EC120 spares AS355 parts AS350 spares AS355 parts AS355 spares EC135 parts EC135 spares Bell spares Airbus spares.
The design, capacity, and the manufacturer of a helicopter also helps determine its final price. Setting a budget to purchase a helicopter should also be taken into account as you narrow down your search. The maintenance costs should be factored in as well because some helicopters are more expensive to maintain than others.
After evaluating which helicopter to buy, you will also need to think about what parts you may need to replace, should the situation call for it.
What Are the Most Important Parts Of A Helicopter?
The helicopter has many important parts it needs to fly at peak levels. One of the most valuable parts in demand is the main rotor. It lets the pilot control which way they turn, change altitude, and make lateral movements in the air.
Another important helicopter part is the landing gear. It comes in many different forms, but are most commonly sold as skids or wheels. Bear, floats, and pontoons are also circulating in the market. The landing gear is often attached to the skids and used to stalbizilie the helicopter on uneven, unstable, or soft terrains.
The engine is another core component of the helicopter that can be purchased second-hand. There are two kinds of engines you can buy: reciprocating engines and turbine engines. Reciprocating engines use one or more rotating pistons to convert pressure into flying power. Turbine engines utilize pressurized air mixed with fuel to create high-velocity gas and activate the turbine wheels.
The tail rotor (located at the tail end of the helicopter) is another part you need to counteract the torque effect of the main rotor. Without this part installed, the helicopter would spin in the opposite direction of the rotor, causing several issues.
It's important to keep in mind that not all helicopter types operate with the same parts. If you need a variety of used helicopter parts down the line, you should rely on Rotorlink to deliver the right parts you need for any circumstance.
Are Used Helicopter Parts Safe to Use?
For the most part, used helicopter parts are safe to use overall. However, you need to ensure they're in top condition and come from a reputable supplier.
One way to ensure the helicopter parts are safe to use are the reviews of past customers and what other helicopter operators have said about the supplier. Get the opinions of other companies you know well, as well as other operators that have used parts from a certain place. The more trusted the opinion, the more trust you can place in the parts you get.
Different helicopter parts are subject to wear and tear, depending on the number of short and long flights a helicopter has already logged. Knowing what used helicopter parts will help your helicopter perform at the optimum level is a great starting point for any pilot. From there, you can get a third-party to review the effectiveness of your used parts and ensure they're safe to use as replacements.
We carry a wide range of parts and spares including AW119 Helicopters, AW119 Spares, AW119 Spare parts, AW119 part out, Leonardo helicopters, Leonardo Spares, Leonardo Spare Parts, Augusta Helicopters, Augusta Westland Helicopters, Augusta Westland Spares, Koala spare parts, Koala engine, PT6B-37A engine, Pratt and Whitney engine
Where Can I Buy Used Helicopter Parts?
At Rotorlink, you can buy used helicopter parts from our extensive inventory list of established suppliers. We employ a rigorous quality control process when gathering different helicopter parts and they are all properly certified and warrantied. Moreover, they are also priced at an affordable rate, sold at or below market value in comparison to other companies. We work with many different partners around the world to deliver the best and safest used helicopter parts for your helicopter or aircraft.
Contact Rotorlink today to explore our used helicopter parts catalog. Work with us now to find the right used parts you need at the right price.