News
It is common for commercial and private helicopters to fly a lot regularly, moreover if they are used daily. Maintaining helicopter functionality and overall performance is extremely important. At RotorLink, we're one of the most reputable and trusted helicopter shops that deals in high-quality helicopter parts sales worldwide.
#helicopters #helicopterparts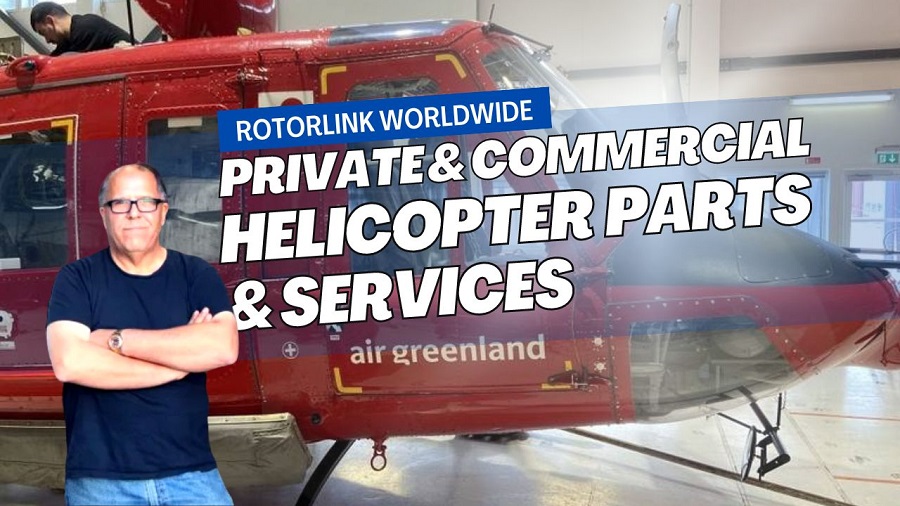 Our team of technical and engineering experts worked with an extensive network of industry-vetted suppliers and service providers to provide great customer service and knowledge. As such, we have the inventory of parts and industry knowledge to help you keep your helicopter in top condition. Rotorlink provides services almost anywhere in the world, and we have been providing them for decades with great success.
Maintaining the functionality of a helicopter requires the use of spare parts and regular maintenance procedures. There are 3 main categories of helicopter maintenance:
Scheduled Maintenance: This includes routine maintenance tasks that are performed at regular intervals, such as oil changes, filter replacements, and inspections.

Unscheduled Maintenance: This type of maintenance is performed as needed, when an issue arises with the helicopter. This could include repairs to damaged parts or the replacement of faulty components.

Continuous Maintenance: This refers to the ongoing maintenance and upkeep of the helicopter, including monitoring systems and performing minor repairs as needed.
There are many important parts of a helicopter, including the rotor system, engines, transmission, and avionics. It is important to secure spare parts for these and other critical components in order to maintain the functionality of the helicopter.
The "3 P's" in aviation refer to people, processes, and products. These are the three main factors that must be managed in order to ensure the safety and reliability of aircraft operations. People include the pilots, mechanics, and other personnel involved in the operation of the aircraft. Processes refer to the procedures and systems in place for maintaining the aircraft and conducting flights. Products include the aircraft itself, as well as the spare parts and other equipment needed to keep it functioning properly.
A well-maintained commercial and private helicopter is important because it can greatly benefit the safety inspection process routine, before and after flights. For people who use commercial and private helicopters, it is a matter of good optics, as well-maintained helicopters represent professionalism and quality service. Maintaining your helicopter on schedule is one of the most important reasons you should avoid catastrophic failures that can result in loss of licenses. When the engine, rotors, or any other part is serviced properly, you can reduce the chances of failures occurring mid-fight. The other benefit of servicing your commercial and private helicopters regularly is that you'll be able to spot any mechanical issues before they become bigger problems. Keeping your helicopter serviced can help you avoid potential disasters that can affect the helicopter and its passengers.
It is common for commercial helicopters and private helicopters to suffer from problems such as grease, grime, and soot that accumulate in their corners and reduce their performance, especially when it comes to electrical connections. As part of a routine inspection, you can spot these issues and prevent problems from happening. The best benefit to keeping your helicopter on a maintenance schedule is the engine and moving parts performance and helps you save money on further repairs or maintenance. The service process is no different than taking your car to a dealership for an oil change and service.
At RotorLink, we have access to a diverse inventory of helicopter parts to help you keep your aircraft in great shape all throughout the year. We have years of experience in the rotor industry which puts us in a unique position to assist with various projects.
To maintain the functionality of a helicopter, it is important to have a well-stocked inventory of spare parts. This includes parts for the rotor system, engines, transmission, and avionics, as well as other critical components. It is also important to have a system in place for tracking and managing these spare parts, including their location, condition, and expiration dates (if applicable). In addition to having a supply of spare parts, it is also important to have a team of trained and qualified maintenance personnel who can perform the necessary repairs and maintenance tasks on the helicopter. This includes both scheduled and unscheduled maintenance, as well as continuous upkeep and monitoring of the aircraft. To ensure the safety and reliability of helicopter operations, it is also important to follow established processes and procedures for maintenance and repair. This includes following manufacturer guidelines and adhering to regulatory requirements.
Maintaining the functionality of a helicopter requires a combination of well-stocked spare parts, trained maintenance personnel, and established processes and procedures. By managing these three factors, it is possible to keep a helicopter in good working order and ensure the safety of its operations.
AW119 Helicopters, AW119 Spares, AW119 Spare parts, AW119 part outs, Leonardo helicopters, Leonardo Spares, Leonardo Spare Parts, Augusta Helicopters, Augusta Westland Helicopters, Augusta Westland Spares, Koala spare parts, Koala engine, PT6B-37A engine, Pratt and Whitney engine
Contact us at (604) 628-8188 to learn more about helicopter parts inventory and how we can help you clean, maintain, or repair your helicopter. Work with our team now to ensure your helicopter is in top flying condition.