News
The AW119 Koala is a single-engine, light helicopter developed and produced by Leonardo Helicopters (formerly AgustaWestland). It is primarily used for air ambulance, utility, and corporate transport missions. One of the key features of the AW119 is its high safety standards. It is equipped with a crash-worthy fuel system and a durable airframe, as well as a comprehensive safety system that includes a dual hydraulic system, redundant electrical system, and automatic flight control system. The AW119 has a maximum takeoff weight of 4,850 lbs and a maximum speed of 150 knots (172 mph). It is powered by a Pratt & Whitney PT6B-37A engine that delivers 700 horsepower. The helicopter has a range of approximately 300 nautical miles and can operate at altitudes up to 12,000 feet.
The AW119 is equipped with a spacious and comfortable cabin that can accommodate up to seven passengers. It is also equipped with a state-of-the-art avionics suite that includes a digital map display, satellite communication system, and weather radar. Our goal is to get you back into the air as soon as possible, so you do not have to be sidetracked by mechanical problems. We work closely with you to not only locate the parts you need but to ensure that they are delivered to you promptly. In order to achieve this, RotorLink Technical Services, Inc. is committed to providing high-quality customer service and full logistical support.
As with any aircraft, there are certain parts of the AW119 that will need to be replaced more frequently than others. These may include consumables such as igniter plugs and ignition exciters and filters, as well as more complex components like the rotor blades and engine. It is important for operators to follow a regular maintenance schedule to ensure that these parts are replaced as needed and to keep the helicopter in top working condition. Whenever you need parts, don't hesitate to contact us. We can quickly ship your parts and provide professional advice. AW119 is a reliable and versatile helicopter that is well-suited for a variety of missions. Its high safety standards and advanced features make it an attractive choice for operators and passengers alike.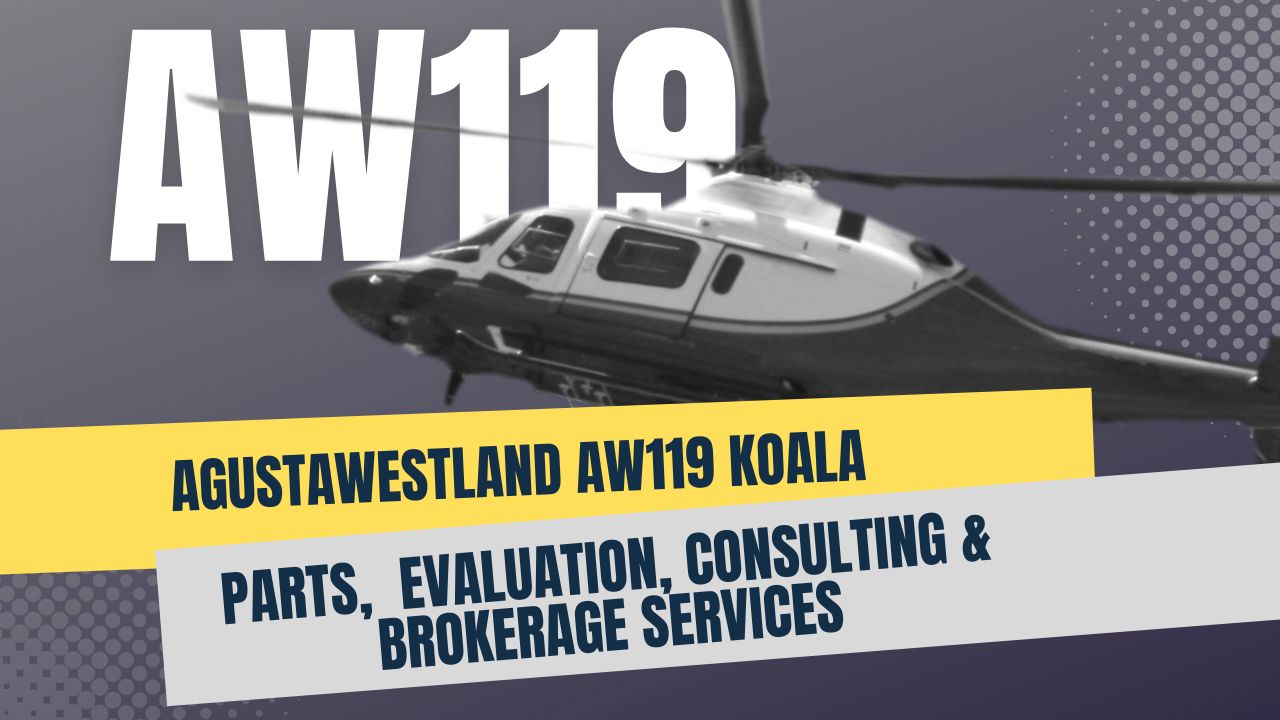 Picture Source Wikipedia
Since AW119 is commonly employed as an air ambulance, providing medical transportation for patients in need of urgent care as well as utility missions, including firefighting, search and rescue, and law enforcement, it's important to keep it in great shape and have spare parts.
The AW119 is also a popular choice for corporate transport. Its spacious and comfortable cabin, along with its advanced avionics and reliable performance, make it well-suited for executive travel. One of the key advantages of the AW119 is its versatility. It is capable of operating in a range of environments, including urban areas, mountains, and offshore locations. Its single engine and compact size make it well-suited for landing in tight or confined spaces, making it ideal for a variety of missions. From purchase to maintenance to repair, we have the expertise to support you throughout the lifetime of your aircraft. Your bottom line will be protected if you maintain your helicopter at peak performance and in the utmost safety for as long as possible so that you do not lose productivity and reduce the level of service you provide to your clients.
You cannot settle for anything less than the best when your clients rely on you to be where they need you when they need you. Choose Rotorlink!